The Inaugural "Wild Weeknight"
I'm going to get this ball rolling with a confession. Or several, to be precise. First up: I haven't quite lived up to my promise of monthly adventures alongside my new full-time job. I set myself this challenge before actually starting the job, before fully realising how much of an adjustment working 9-5 was going to be for me. The autumn and winter didn't help: with the nights creeping in earlier and earlier and temperatures dropping, the only thing on my mind as I walked out of the office at the end of the day was what was for dinner and how early was sociably acceptable to put on my pyjamas. Suddenly my weekends were filling up with plans that didn't involve getting outdoors and, before I knew it, Christmas was upon me and I didn't have much to show for those first few months.
Thankfully, the winter break provided a bit of respite from my pyjama-mania and I finally managed to get out on a mini-adventure!
Introducing: The Inaugural Wild Weeknight*
* Incidentally, this is where the second confession comes in: I'd originally envisaged my Wild Weeknight extravaganzas as being post-work adventures that would see me traipsing into the office after a night of sleeping wild. This plan never quite came into fruition (see above) but I did wild camp on a Wednesday night, albeit when I had some time off from work. Halfway there I guess?
Anyway, back to business. For my first Wild Weeknight I headed north to the wonder that is the Lake District. My five weeks trekking in the Swedish Wilderness earlier in 2016 provided me with a newfound confidence in map-reading and wild camping and it is thanks to this that I was able to plan a route (keeping it reasonably short as I had a four hour plus drive to start the day and an early sunset to contend with), park my car, lug my heavy pack onto my back and set out into the hills by myself.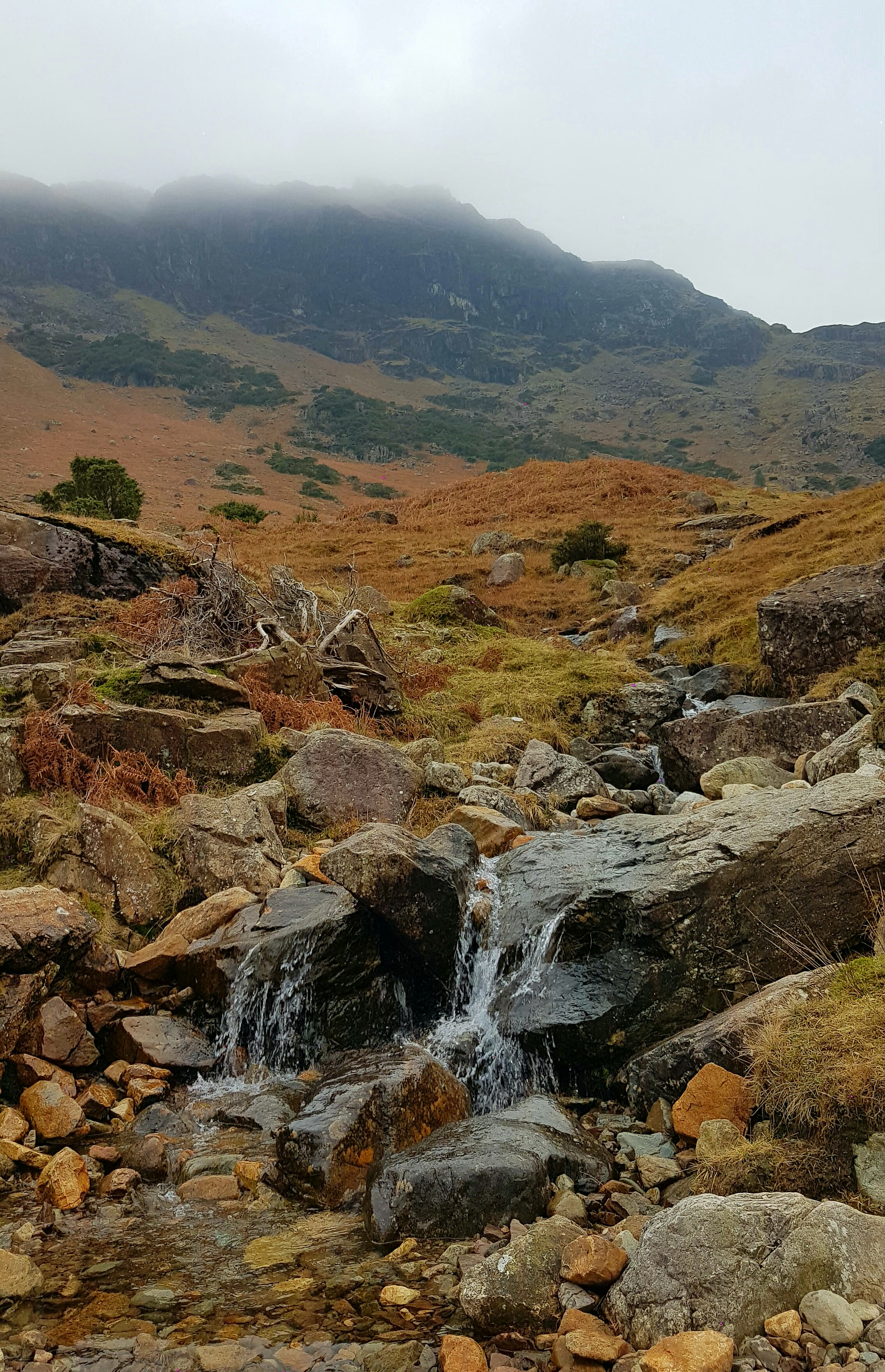 The grey cloud hung low, clinging to the hillside above me and shrouding the feeble attempts of the winter sun, and there was a chill in the air that unrelentingly bit through my layers. While many people would consider these conditions unappealing, I was filled with a sense of freedom and joy that I only experience when roaming free in the great outdoors with no agenda other than finding somewhere picturesque to pitch my tent for the night.
As I slowly progressed up the slopes the cloud closed in around me until my visibility was reduced to the short stretch of rocky path ahead and I lost all sight of the hills around me. After months of living and working in a bustling, touristy city, the sense of isolation that this environment evoked was a relief.
Then, with no warning, the sun broke through the cloud that had been enveloping it so determinedly. Suddenly I could make out the hazy layers of hills filtering off into the distance, their ridges picked out against the softly-lit sky.
From that moment, the views only got better. The cloud dropped into the surrounding valleys and left views of peaks warmly illuminated by the later afternoon sun and crisp, clear sky above. As the sun finally disappeared behind the high ridge to my left I realised I needed to find somewhere to set up my tent; if I left it much longer I would inevitably end up making camp in the dark with just a headtorch to guide me. Luckily, I soon spotted the small ledge I'd been aiming for all afternoon, a level patch of soft grass set slightly above the path, near a stream and reasonably well sheltered by the hill behind.
By the time I had some water boiling for a cup of tea, I was safely swaddled in my layers of soft wool and feathery down, tent unzipped to take in the view before me: there was now a thick layer of cloud blanketing the valley below me, the sky a gentle ombré from pale, wintery blue to sunset-tinted pink. Before long, the first stars of the night were twinkling in the darkening sky and a layer of frost was glittering in the light cast by my headtorch.
By morning, the cloud had attempted to dissipate and only a few patches remained for me to traverse as I made my way back down into the valley where my car was parked. I was in a slight hurry having made plans to meet up with the wonderful Athena, whose website ROAM I recently wrote an article for after she got in touch on Instagram. We quickly established that we had great deal in common, including an obsession with dogs, film photography and outdoorsy adventures…
Athena and I decided to brave the fog and bitter cold and spent most of the day scrambling around amidst the cloud on Langdale Pikes, frost settling in our hair and the cloud masking all trace of any other people nearby. Towards lunchtime we began our descent. Simultaneously, the cloud cleared and we were treated to a fantastic view of the sprawling valley below us as we greedily wolfed down our lunch.
We made it back to the campsite with plenty of time to get our tents up and settle in before heading to the local pub for some warmth, cuddles with a few dogs and plate of chips; a very fitting end to an adventure-filled day.
My final day in the Lakes was spent exploring some nearby woods and a beautiful lake with Athena before saying our farewells and heading in separate directions. Safe to say we'll be going on more dog and photography-filled adventures in the future!