Roadtrippin' Botswana: Part 2
After a busy start to our roadtrip through Botswana, Chess and I were looking forward to spending some time in the remoteness of the bush. A few hours of bumping down yet another potholed road later, we reached the turnoff for Leopard Plains. Passing through the gate, we navigated our way along several kilometres of deep sand tracks until we reached a few beautifully built open buildings.
Leopard Plains
Sweaty and tired, we piled out of the car. We were met by a woman who appeared from within one of the buildings like a mirage, her face adorned with the widest and most contagious smile I have ever seen. As if that wasn't welcome enough, she was carrying a tray with two cold drinks on – absolute bliss after the hours we had just spent in a sweltering car.
The woman introduced herself as Kabelo and once our drinks had been happily consumed and we were feeling refreshed, she hopped onto the back of Tonia the Toyota to direct us to the safari tent that was to be our home for the next four days. Arriving at our tent, it felt like we were totally isolated and out in the heart of the bush, while in reality we were only a few hundred metres away from the main area of the lodge.
The 8,000-hectare farm is privately owned by a chap called Tim and it's clear to see just how hard he has worked to create such an incredible place, the amount of effort and attention to detail he has poured into it. He's populated the reserve with all the game you could dream of, zebras, impalas, kudu, wildebeest, oryx and so much more. The lodgings are in private, luxurious tents, sufficiently spread out for us to feel we had the place to ourselves.
Into the bush
After a delicious dinner on our first night at Leopard Plains, Tim took Chess and me out on our first game drive. He expertly handled the safari vehicle while operating the powerful spotlight, pointing out impala and spotted eagle owls. We were eventually dropped off back at our tent at almost one in the morning. Collapsing onto our beds, we grabbed a few hours' sleep before getting up at half five for breakfast and our next game drive.
The following day we were taken out for our drive by Keller, the guide at Leopard Plains. Driving along, he constantly scanned the sand and bushes, pulling over from time-to-time to point out leopard tracks from the night before. Keller could tell us all about the different plants, trees and birds, all of which he recognised instantly. It blew our minds that he could hold that much knowledge in his brain, let alone navigate the labyrinthine tracks covering the vast farm.
That evening, we went out for another drive as the sun was setting. The dusk light was incredible for looking at and photographing the wildlife. It was hazy and pink, sand and dust getting kicked up by impatient hooves. One clearing alone was populated with wildebeest, kudu, impala and oryx, all calmly co-existing in the dwindling evening light. As we made our way back to the lodge in time for dinner, I sat at the back of the safari vehicle transfixed by the way the sky changed from soft, warm pastel hues to the deep, endless blue of nightfall.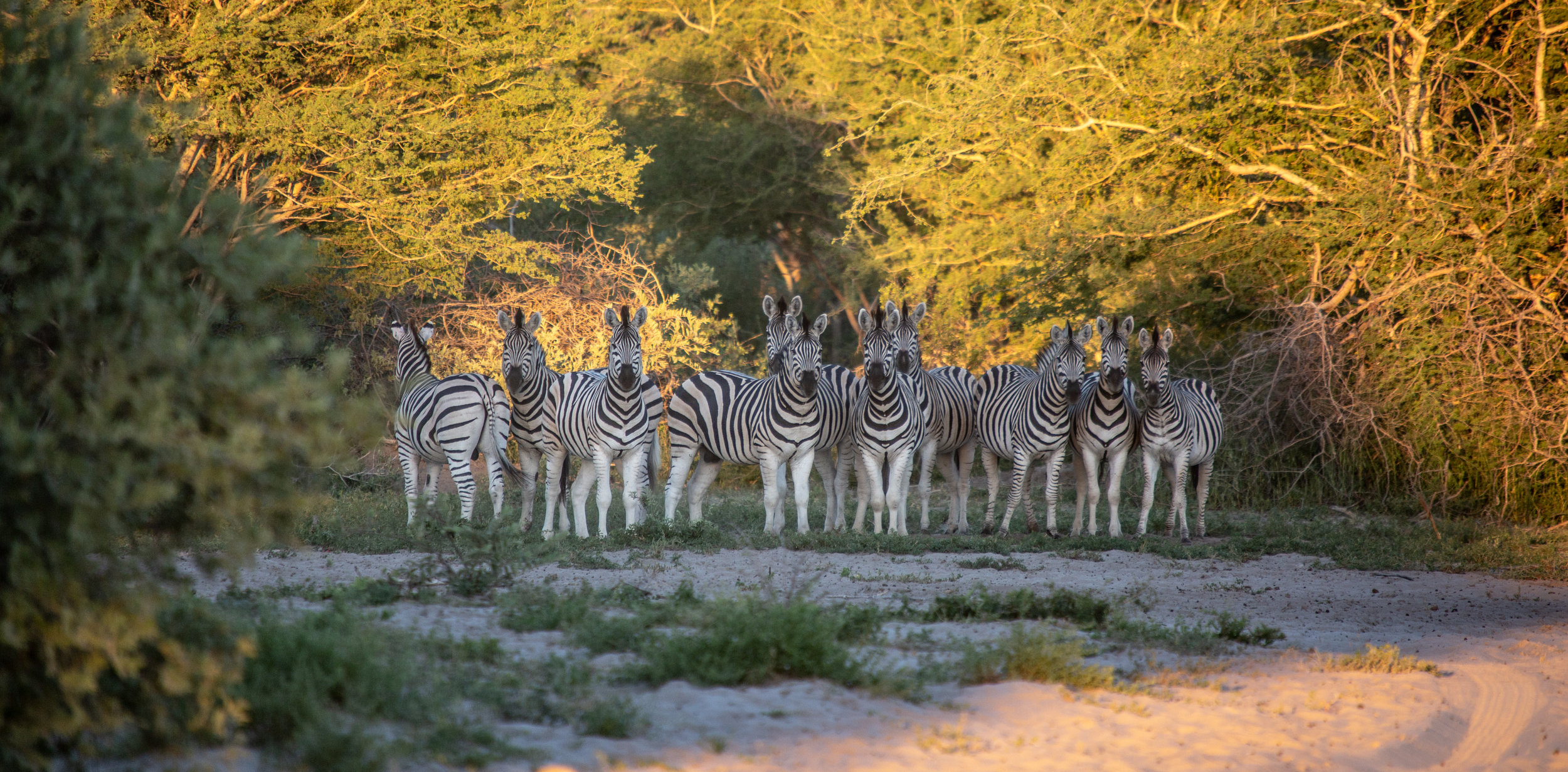 Any peace I may have felt from the calm evening and watching the sunset was dispelled very efficiently later that night. I was dragged from my dreams by Chess thumping me repeatedly, convinced she could hear something outside the tent. Sure enough, after a moment I heard the rustling of foliage, crunch of footfall on hardened sand and – most disturbingly – the panting breaths normally associated with a hyena.
Trying to ignore the fact that we had plenty of delicious-smelling biltong in our tent, we lay in silence, our ears straining as we tried to work out what the animal was up to. In the morning, we showed photos of the tracks to Keller who confirmed that the creature that had been outside our tent all night was in fact a honey badger, known as being the world's most fearless animal.
Nxai Pan National Park
Leopard Plains is ideally located on the edge of the incredible Nxai Pan National Park and we knew we couldn't leave without spending a day exploring it. The park covers an area of over 2,500km2 and is exactly what springs to mind upon hearing the words "African plains". It's a vast, barren landscape, with just a few sandy roads winding their way across the untamed expanse.
Nxai Pan is not only home to a fantastic array of wildlife, but it's also where you'll find Baines' Baobabs, a group of baobab trees that are estimated to be a millennium old. To reach them, we drove for 25km through expansive plains covered in bushman's grass, the pale tops gently swaying in the warm breeze. The huge trees themselves are surrounded by a white salt pan, the surface of which crunched underfoot with every step.
Taking to the water
Having explored some of Botswana by road, air and horseback, it was now time to take to the water. Loading a few kayaks onto a trailer, Chess, Tim, Keller and I headed to the Boteti River. We spent a few hours paddling along with no particular agenda, instead just taking our time and enjoying the change of scenery (and in the case of Chess and me, getting rather sunburnt in the process).
Tim constantly hopped in and out of his kayak to search for the remains of stone tools below the surface, while Keller inspected each and every cow on the bank, trying to identify any that belonged to his own herd.
As our last morning at Leopard Plains finally arrived, Chess and I lay in our beds listening to the thunder of hooves as wildebeest stampeded past, and appreciating the way the sunlight fell through the mesh of the tent windows and onto our bed. It took some effort for us to get out of bed as we didn't feel remotely ready to leave Leopard Plains. Although we had managed to get so much out of our time there, we also felt like we had actually relaxed and adjusted to life at this wonderful place.
Dinaka
The only remaining destination on our Botswana roadtrip was Dinaka Camp, a lodge situated on the northern boundary of the Central Kalahari Game Reserve. We had been sent information about self-driving to the lodge, a rare mode of transport for arriving guests who are usually flown in to the landing strip on the reserve.
As we had Tonia the Trusty Toyota, we had decided to drive. This involved crossing several hundred kilometres of uninhabited, inhospitable African bush, during the entirety of which we didn't see another vehicle. It was with an understandably distinct sense of relief that we were met at the gate of Dinaka Camp by Lucas, our allocated guide, who escorted us through the enormous reserve.
After being welcomed by the staff, we were shown to the beautifully presented main area of the lodge. Plonking ourselves down on the comfy sofas, we were given a refreshing drink and the safety procedures were explained to us. The main rule was that we weren't allowed to walk unescorted outside of the main area when it was dark. Before 6am and after 5pm, if we wanted to return to our tent, it was necessary for our guide to go with us.
The reason for this was simple: lions. Early one morning as our guide Lucas walked us back to our tent, we asked him about how much of a threat the big cats posed. He paused and shone his torch down at the sand to the side of the wooden walkway, looking for something. Then he pointed out a large paw print. "This one's fresh," he explained. "It passed in the last few hours."
On safari in style
Over the next few days at Dinaka, Chess and I were responsible for photographing every aspect of the lodge and reserve, including all activities that are on offer for paying guests. In the space of just over 36 hours, we enjoyed sundowners and nibbles on the lookout tower, watching as the sun slowly set over the vast expanse of the Kalahari; we were woken up each morning with fresh coffee delivered to our tent; ate more delicious food than we thought possible somewhere so isolated; and went on several game drives and experienced the most phenomenal lion sightings either of us had ever seen. We had lunch in a hide, watching as herds of game flocked to the nearby waterhole before disappearing in search of shade to shelter from the afternoon heat. We even went underground into a bunker by yet another waterhole, where we could watch animals coming and going from close proximity without disturbing them.
My personal highlight was getting to go out on a bushman's walk. Taken out by Lucas and three immensely knowledgeable guides, Chess and I learned about the various plants you can expect to find in the Kalahari and their varying uses. We were shown how bushmen source water when they're out for days at a time hunting, how to start a fire with friction and how to lay traps for different prey. It was a fascinating way to spend the morning and an incredible environment to explore on foot under the watchful eye of our guides.
By our last night in Botswana, there was only one experience left for us to tick off: a night sleeping out in the depths of the bush. To do this, we drove out to Dinaka's sleepout deck, a 20m high platform complete with lavish bed and en suite. Tucked up in bed, Chess and I gazed up at the star strewn sky above us, the roars of lions reverberating all around… Laughing quietly to ourselves, we reflected that this felt like an appropriate way to end our truly epic roadtrip through such an incredible and varied country.